Book Reviews by Heather
The Priority of Jesus Christ
author Tom Wells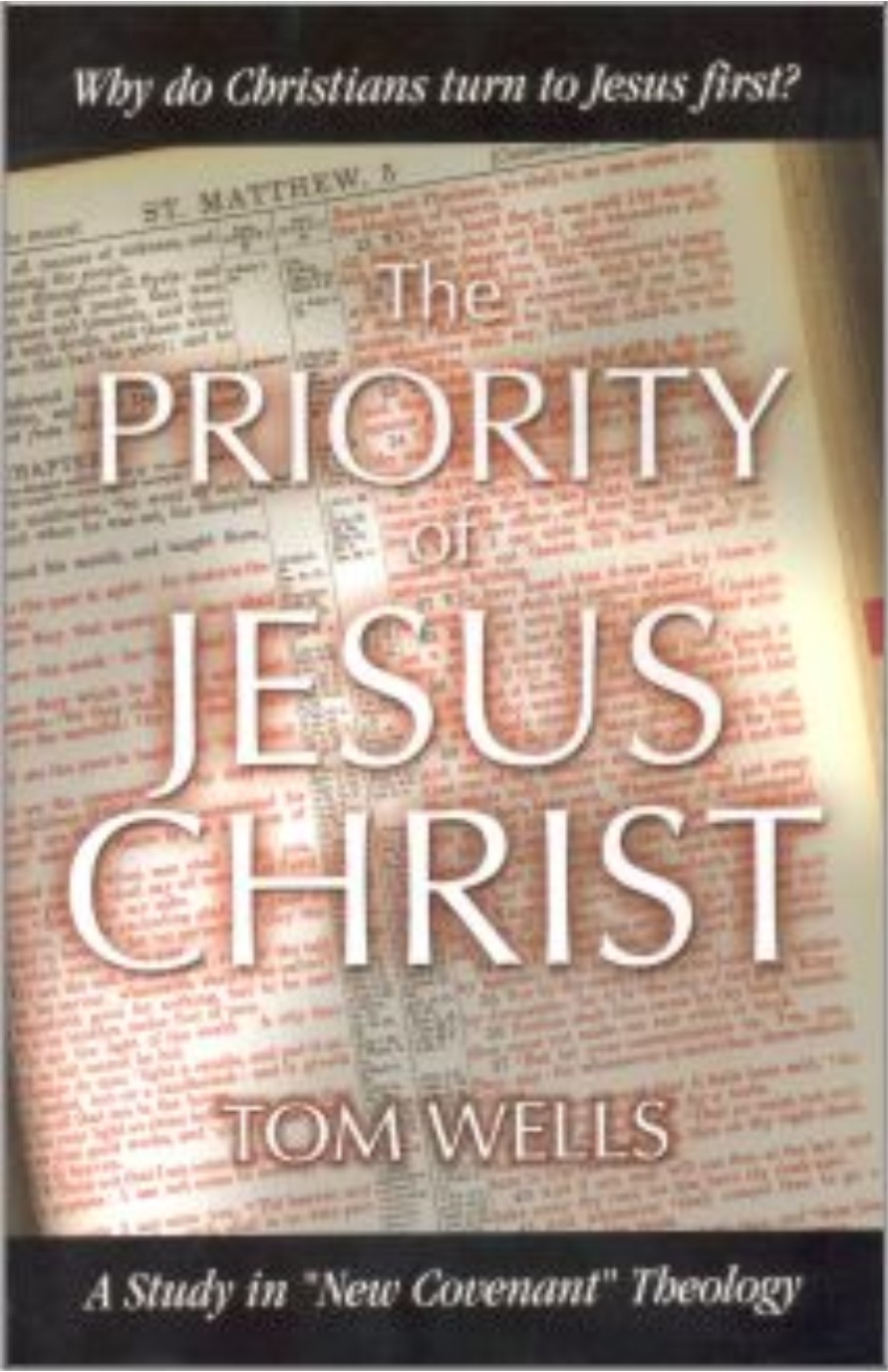 New Covenant Media, Frederick, MD
2005
ISBN: 1-928965-16-4
Once a man complained, "We say too much about Christ and too little about God." The man was defending God's sovereignty and assumed that Tom Wells would agree. He did not because the man's statement implied a competition between the Father and Son. Therefore Wells wrote this book to answer two questions: "In what sense is Jesus Christ first in your life as a believer in Him? In what sense is Jesus Christ to come first in our understanding of Scripture?"
Wells answers the second question, first. He describes Jesus as the agent who reveals the character, will, and glory of God the Father. Then he compares Jesus with God's other agents in the Old and New Testaments. In Hebrews, God declares Jesus to be superior to the prophets of the Old Testament. Jesus is a superior priest and a superior sacrifice of a superior covenant—the new covenant. Peter confirms that Jesus is the prophet promised by God through Moses. Since this is the era of fulfillment, we must listen to everything Jesus tells us. Moreover all the writers of the New Testament speak as Jesus' agents.
Next Wells turns his attention to the subject of faith. Throughout the Old Testament God commends, commands, and exemplifies faith in a faithful God. He does the same in the New Testament but the emphasis changes to faith in Jesus. In the Old Testament faith in God meant believing in God's word. In the New Testament Jesus is the Word of God. Therefore faith in Jesus is faith in God. There is no competition between the Father and Son. We come by faith to the Father through the Son.
After Wells lays the groundwork for the priority of Jesus in the Old and New Testaments, he asks, "Does the priority of Jesus completely displace the Old Testament?" He intends to dispel any notion that he is like the early heretic, Marcion, who discarded the Old Testament.
Wells considers the Sermon on the Mount in which Jesus said He came to fulfill the Law and the Prophets, meaning the Old Testament. After His resurrection Jesus taught that the entire Old Testament bore witness to Him. It points to Christ by direct prophecy, by pictures or types, and by anticipation. For this reason Jesus has the final word. The result is that we must read the Old in light of the New.
Finally, Wells considers the relationship between Jesus and believers. In keeping with the promises of the Old Testament, God's kingdom arrived in the person of Jesus Christ. He is the Davidic King who rules over His church. Therefore He is the master of believers and we are His slaves. Our desire should be to obey His every command. The church should match Christ's love for her by showing a corresponding love for His direction over her.
This book explains how the Scriptures are all about Jesus Christ. We should respond by giving Him priority in our lives.
— Reviewed by Heather Kendall in New Covenant Media, Frederick, MD
---
Singled Out
author Wilf H. Roch with Jeannie Lockerbie Stephenson
Guardian Books, Belleville, ON
170 pages, 2011
ISBN: 978-1-55452-689-5
Singled Out is an autobiography of the life of Wilf Roch.
Wilf Roch owned the disc-jockey company "Partie Sound Music Services." He began his company in September 1973 with one complete set of disc-jockey equipment and one booking for a dance at the Indian Friendship Centre in Thunder Bay, Ontario. When his company received multiple bookings, he bought more disc-jockey equipment and hired people to help him.
In 1978 Wilf and his wife Carol moved to London, Ontario, so that he could expand his business. He left a friend to run the operation in Thunder Bay. By 1985 his company could supply equipment and disc jockeys for forty-two events on a single night. Since he was so successful, he intended to retire in his mid-forties. Life could not get any better.
But Carol was very unhappy with the worldly direction of Wilf's life. As a believer she felt supplying taped secular music to dances and other functions did not glorify God. "If God doesn't like what I am doing for a living, he'll have to take it away!" Wilf yelled at her.
One year later, on January 15, 1986, RCMP officers marched into his office with a search warrant. They loaded their two cars with the tools of his trade and some of his documents. Afterward they searched his home and ordered him to cancel all present and future business bookings. On April 16, 1986, the Crown laid forty-two criminal charges against Wilf—thirty-nine for copyright infringement and three for the distribution of copyrighted material. At the age of forty-one, he lost his livelihood, his home, and his savings.
With criminal charges hanging over his head for three years, he had difficulty finding permanent employment. Yet God performed a miracle in Wilf's life. Although he had attended church occasionally, he did not understand what it meant to be a Christian. Two nights after the raid, he woke up panic stricken. Turning on the TV, he found himself watching a sermon on "Excess Baggage" by Jerry Falwell. The following Monday he talked to his pastor, Paul Fawcett. Two hours later he admitted his need of a Saviour and surrendered his life to Christ.
Ever since, he has been passionate about evangelism. This book is significant as a part of Canadian history. Fifteen thousand disc jockeys regularly used compilation tapes to make multiple copies of music from one record. Wilf Roch was the only one singled out and charged.
Judges in three courts heard his case and cleared him of any wrongdoing. After his ordeal disc jockeys have been paying yearly license fees for the privilege of duplicating music. More important, however, is the spiritual impact Wilf's testimony has had through the years. He holds no animosity toward those who ordered the RCMP raid. Instead he reminds people of what Joseph said to his brothers, "You intended to harm me, but God intended it for good" (Genesis 50:20, NIV).
Singled Out will encourage those in difficult circumstances and teach them to have faith in God.
Reviewed by Heather Kendall for www.thrive-magazine.ca